7 signs your spouse may be cheating on you
Regardless how long you've been married, the possibility of infidelity will always be present at the back of your mind, nagging at your heartstrings and provoking a level of insecurity that is hard to set aside. Infidelity is one of those things that may seem harmless to the perpetrator but can be as damaging to a relationship as domestic violence, maybe even more. So, what happens when you have a feeling your spouse is cheating, but can't prove it? There are many signs you can look for when you suspect your spouse of cheating, such as:
1. He suddenly starts carrying his phone all over – if your spouse has started taking his cell phone wherever he goes, even when taking a shower or using the bathroom, it may be a sign he has something to hide. This is especially true if he has only recently started doing so.
2. He starts spending more time outside your home – while an increase in a person's work load can and should be expected at certain times, a sudden start in late arrivals and using a variety of work related excuses, especially those that don't seem plausible, can point a finger straight to an affair.
3. He starts showering more often and buying new clothes – when your spouse starts changing his hygiene habits, something might be going on. If you notice him taking extra care of his appearance be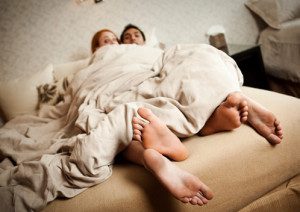 fore he leaves your home, suddenly changes his clothing style, starts wearing cologne when he never did before or steps into the shower the minute he walks through the door, it may be a sign he is cheating.
4. The number of fights increases – does it seem your spouse is suddenly trying to pick a fight for the smallest of reasons? Does he find excuses to get angry and leave your home? If so, something is definitely going on.
5. Strange charges on credit cards – do you go through your bank statements and find unexplained charges for restaurants or even gifts you haven't received? This is almost a surefire sign that he is having an affair.
6. He no longer wants to spend time alone with you – men who are cheating on their wives start avoiding intimacy, and one of the most common ways of doing so is avoiding time alone with their spouse. If your husband suddenly wants to take you out with a group of friends rather than as a couple, your relationship might be in trouble.
7. He becomes a social butterfly – suddenly the man who used to think parties and other social gatherings were a waste of time is attending a whole range of activities… without you.
Finding out your spouse is cheating on you can be a huge blow to your self-esteem, and the first thing you may wonder is what you did wrong, making you depressed and downright miserable. Even so, before you confront your spouse with your suspicions and getting brushed off as being paranoid, your best bet is to engage the services of a private investigator, one who can discreetly gather all the evidence you will require to prepare for the confrontation, evidence that can also prove to be helpful during a divorce settlement. In the end, your spouse may be innocent, but there is no better way to achieve the peace of mind this innocence provides than by having a professional provide all the proof you need.
Find out more about our Domestic and Infidelity Investigations here.